Oral Appliance Therapy: Simple, Effective Sleep Apnea Treatment
According to the American Sleep Apnea Association, approximately 22 million Americans struggle with sleep apnea. In addition to affecting your quality of sleep, sleep apnea has been linked to serious health conditions and behavioral changes.
To alleviate the effects without surgery or cumbersome continuous positive airway pressure (CPAP) therapy, Drs. James M. Stein and Brett E. Stein can provide you with a custom oral appliance for sleep apnea. If you are not sure whether an oral appliance can work for you, we can order a sleep study with a trusted specialist in the Boston, MA, area.
Are You a Good Candidate for Oral Appliance Therapy?
The American Sleep Apnea Association has found that oral appliance therapy is most effective for patients with mild to moderate sleep apnea. But if you have more severe sleep apnea and have been unable to use a CPAP machine or do not want to undergo surgery, oral appliance therapy may also be a good option for you.
Ultimately, only a thorough check-up can help our doctors determine whether you are a good candidate for sleep apnea treatment.
The Treatment Process
Our team can guide you through the entire process, from your initial diagnosis to follow-up after treatment.
Diagnosis
After your initial consultation, we will usually refer you to a local trusted sleep study specialist. During the study, they will conduct a screening to determine whether you have sleep apnea and, if so, how severe it is. In order to make this determination, you will need to wear a device during sleep which tracks the number of respiratory disturbances or apneas that you experience. The number of apneas recorded during each hour of sleep will determine the severity of your disorder, which usually breaks down as:
0 to 5: Minimal or no sleep apnea
5 to 15: Mild sleep apnea
15 to 30: Moderate sleep apnea
30 or more: Severe sleep apnea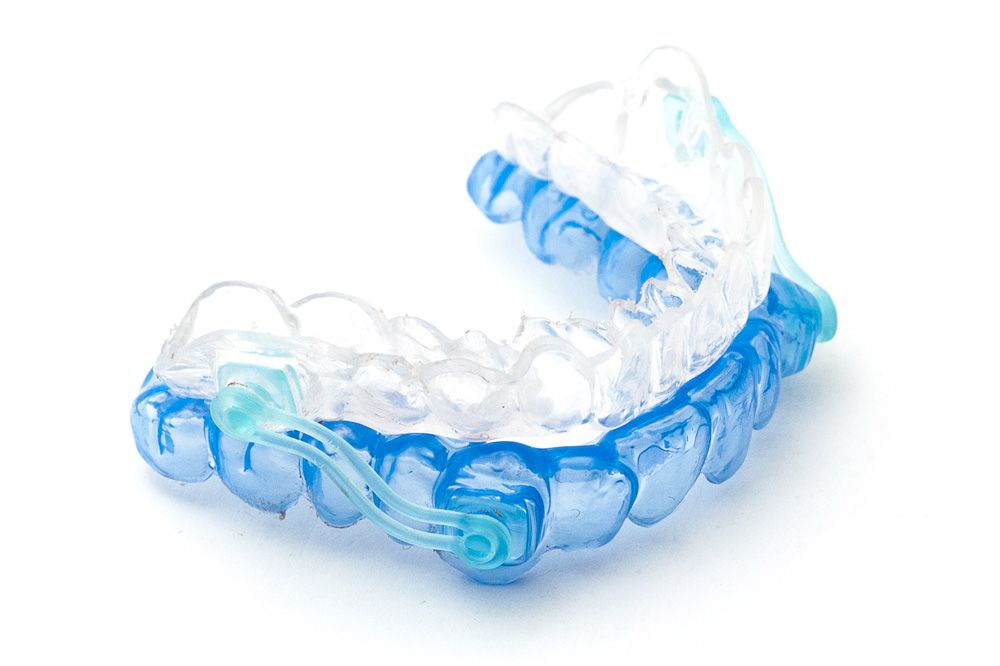 Oral Impressions
If the sleep study specialist recommends you for oral appliance therapy, you will come back to our office to have impressions of your oral cavity taken. Our office typically uses digital impressions, which eliminate the need for uncomfortable, messy, and goopy traditional impressions. These impressions will be used by a trusted offsite lab to create a custom oral appliance.
Treatment
Once your oral appliance is returned from the lab, you can start wearing it on a nightly basis. The appliance is made from smooth plastic and should fit snugly and securely over your teeth. When worn, it will push your lower jaw forward and open your airway during sleep.
Oral appliance therapy makes sleep apnea treatment simple.
Oral Appliance Therapy Benefits
Like most sleep apnea treatments, oral appliance therapy reduces snoring and can improve your overall well-being during the day. Many patients feel significantly more energized during the day after starting their treatment.
Compared to alternative treatments like CPAP therapy and surgery, oral appliance therapy offers an additional benefit: comfort. Oral appliances are portable, quiet, and easy to wear, so patient compliance is generally better than that of CPAP therapy. Additionally, oral appliance therapy is especially effective for treating obstructive sleep apnea, the more common form of the condition.
Find Relief Today
Oral appliance therapy makes sleep apnea treatment simple. Furthermore, the results can be life-changing and dramatically improve your quality of life. To find out whether you are a good candidate for oral appliance treatment, schedule a consultation with one of our doctors. Call us at (617) 227-6076 or contact us online to learn more.