Wisdom Tooth Extraction for Improved Oral Health
Dr. James M. Stein provides wisdom tooth extraction at his Boston, MA, practice. By performing this procedure, he can help you avoid misalignment, infection, damage to surrounding teeth, and other issues related to wisdom tooth development. If you are already experiencing complications due to wisdom teeth, he can help you fully restore your oral health through extraction followed by other treatments. He performs this procedure using gentle techniques, and sedation is available upon request.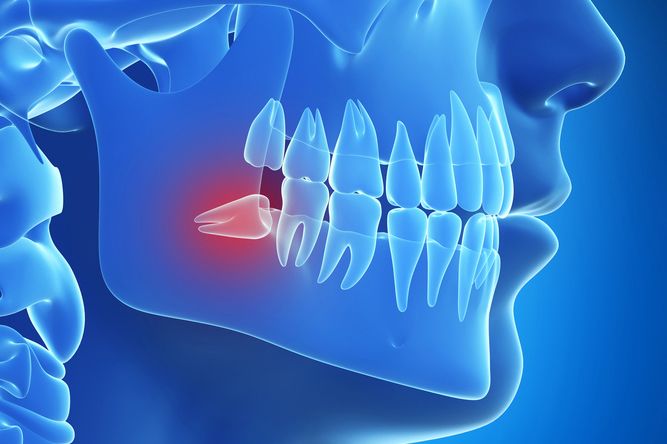 When wisdom teeth become impacted, it can cause many serious oral health issues.
Why Wisdom Tooth Extraction?
Wisdom teeth usually erupt between the ages of 17 and 21. Although wisdom tooth extraction is not always necessary, there are certain situations in which a patient would need extraction to avoid escalating oral health problems. For example, when wisdom teeth erupt at an improper angle, they can cause tooth misalignment, pain, infection, dental erosion, and an increased risk of tooth decay. You may need your wisdom teeth extracted if:
Your dental arch is too small to accommodate wisdom teeth
You have impacted wisdom teeth, or wisdom teeth that have not fully erupted
Your wisdom teeth are causing your gums to swell, allowing bacteria to proliferate
By not taking prompt action to address wisdom teeth in these situations, patients may eventually need much costlier treatments such as orthodontics, crowns or bridges, or dental implants to repair the damage. Some parents choose to have their children's wisdom teeth removed before they can cause issues.
Wisdom tooth extraction is not always necessary, there are situations in which a patient would need extraction to avoid escalating oral health problems.
What to Expect during Treatment
Your wisdom tooth extraction experience will begin with a consultation with the doctor. At this time, he will examine your smile and review your medical history to ensure that you can safely undergo oral surgery. X-ray images will be taken to plan a precise surgery that minimizes trauma to surrounding tissues and expedites healing times.
On the day of surgery, Dr. Stein will administer local anesthesia. Sedation options are available if you suffer from dental phobia or need additional help relaxing. Next, the doctor will use forceps to gently rock the wisdom tooth back and forth and lift it from the socket. For an impacted wisdom tooth, the doctor creates an incision in the gum tissue to access the tooth. Bone will be removed, if necessary, and the tooth will be rocked until it is removed from the socket. Finally, the incisions are closed. The entire procedure can be completed in 30 to 60 minutes, and you can go home immediately after treatment.
Ensuring a Healthy Recovery
Patients will be given gauze to control bleeding in the treatment area, which should subside within a few hours of the procedure. Be sure to change out the gauze every 30 to 60 minutes. It also helps to keep your head elevated as a way to minimize bleeding and swelling. Over-the-counter pain medications can be taken to control discomfort, which may last a few hours to a few days.
Additionally, patients should plan on eating a diet of soft foods for at least a few days following the procedure. It is also important to avoid straws. Eating crunchy foods and sucking a straw can dislodge the blood clots that have formed in the socket, causing a condition called dry socket that can result in infection and severe pain. It is also advised that patients brush and floss gently near incisions.
Book a Consultation
Wisdom teeth can cause a range of oral health conditions that can easily be avoided with an extraction procedure. Contact our office online today to schedule a consultation, or call us at (617) 227-6076.