Is tooth loss causing you to hide your smile? Are you having a hard time eating or speaking because of the gaps in your teeth?
A dental bridge fills the gaps left by missing teeth, restoring your smile beautifully and giving you a secure bite.
Drs. James and Brett Stein can expertly place a dental bridge in our Boston, MA, office so you can leave with a confident, beaming smile.
What Is a Dental Bridge?
An Ideal Dental Solution for Missing Teeth
Made of one or more prosthetic teeth called pontics, a dental bridge "bridges the gap" between your healthy, natural teeth. Our Boston practice offers both traditional and implant-supported fixed bridges so patients have the option of choosing the best type for their situation. Though implant-supported bridges offer additional benefits, both types of bridges will restore your bite and let you walk out with a natural-looking smile.
Whether you choose a traditional or implant-supported bridge, we can restore your smile, improve your bite, and reduce the potential for losing additional teeth. The first step is meeting with one of our
prosthodontists
at James M. Stein, DMD, in Boston, MA. Our prosthodontists, who are also dentists, will assess your mouth and discuss your dental goals so they can recommend a bridge that is best suited for your situation.
Traditional Dental Bridges
A traditional porcelain bridge uses natural teeth to support it. The replacement tooth is first attached to dental crowns to form the bridge. The crowns at either end of the bridge are then attached to your natural teeth. Our traditional bridges can replace a single missing tooth or several missing teeth. However, one requirement is that the abutment teeth supporting the crowns need to be healthy enough to support the bridge through the wear and tear of daily life.
Rather than relying on natural teeth to hold your dental bridge in place, implant-supported fixed bridges are secured to dental implants that are surgically placed into your jawbone. Unlike typical dentists, our prosthodontists are highly trained in implantology. If you choose an implant-supported bridge, they can expertly handle your entire case. About three to six months after your implants have fused with the jawbone, the bridge will be attached.
Implant-Supported Bridges
Restore Both the Tooth and Tooth Roots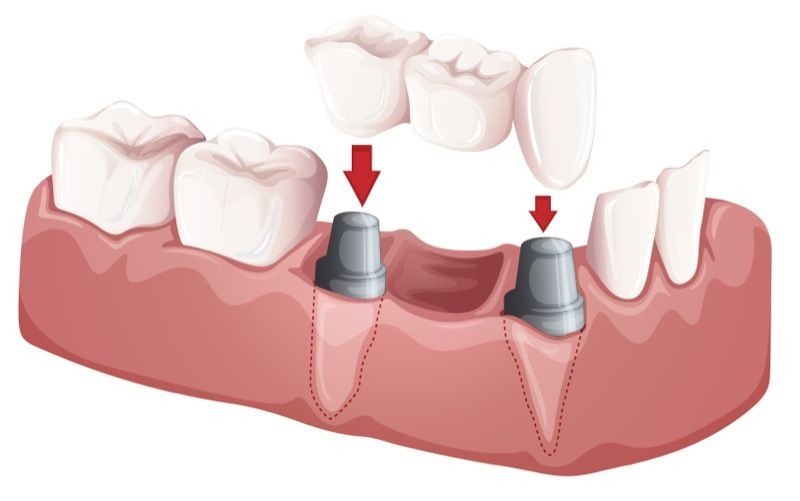 How to Care
For Your Dental Bridges
It is important to follow your doctor's instructions in order to extend the lifespan of your dental bridges. Brushing your teeth twice daily, flossing once daily, and coming in for routine dental checkups are all necessary to keep your gums, teeth, and dental prosthetics healthy.
See Why Boston, MA, Chooses Us
For Their Dentistry Needs
Dr Stein is everything one would look for in a dentist: Responsive, friendly, and above all else, meticulous with his dental work.
View On Google
Dr. Stein is a phenomenal dentist, a standout in his field of expertise. His technical skills are superb and he exudes a level of confidence in his patients, so important for peace of mind...
View On Google