Many men and women hesitate to wear dentures because they think that prosthetic teeth will be uncomfortable and embarrassing.
At the practice of James M. Stein, DMD, nothing could be further from the truth. Our dentures are natural-looking and fit precisely.
Discover how our prosthodontists in Boston, MA, can restore your smile with traditional or implant-supported dentures...
We Offer Two Types of Dentures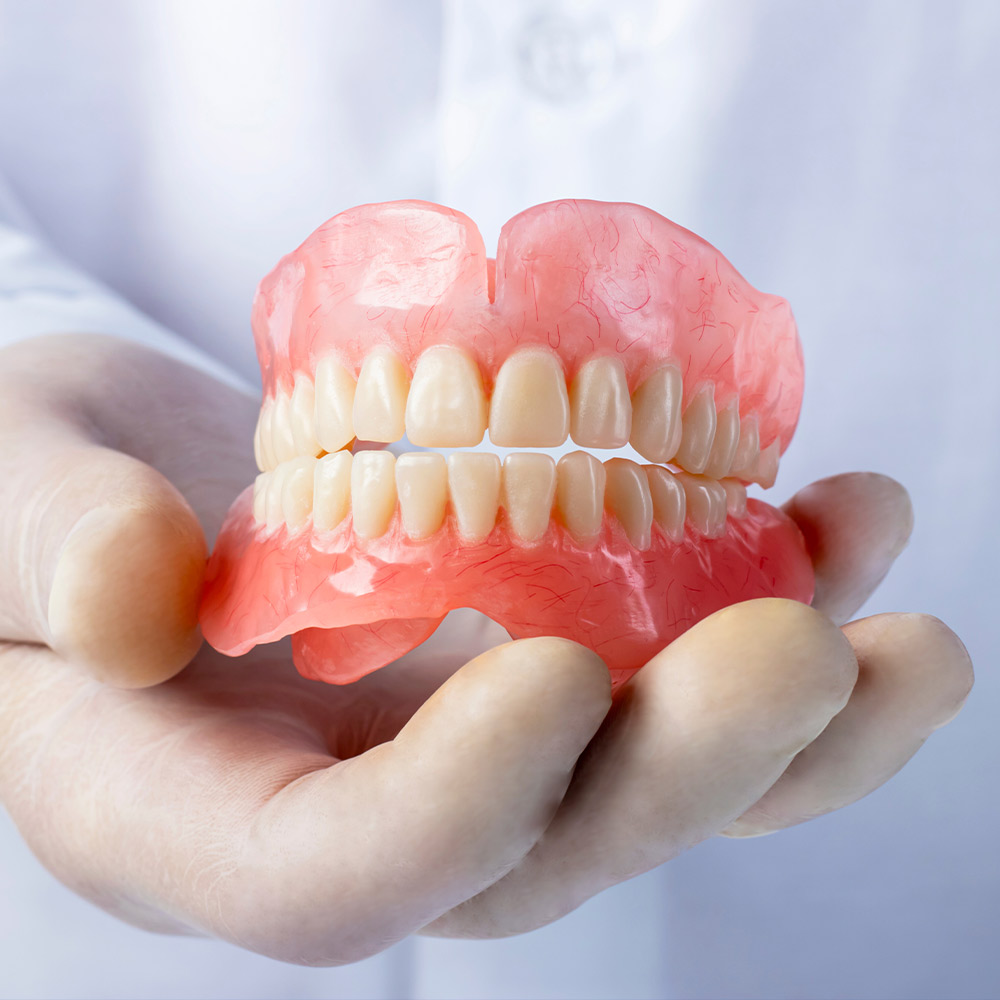 Traditional Dentures
Traditional dentures are an effective solution for patients seeking a minimally invasive, aesthetically pleasing option. These removable restorations often consist of prosthetic teeth made from dental-grade porcelain supported by a gum-colored acrylic base. Our dentists offer both partial dentures, which can attach to nearby natural teeth, and full dentures, which usually cover the gums and stay in place through a combination of suction and dental adhesive.
The benefits of traditional dentures include:
Noninvasive Treatment: Surgery and extensive recovery time is not needed.
Affordability: Partially covered under most dental insurance policies.
Aesthetics: Traditional dentures provide a natural, attractive look.
Implant-Supported Dentures
Our dentists can also attach full or partial dentures to dental implants. Dental implants are small titanium posts that replace lost tooth roots. Implants are able to connect dentures and other dental restorations directly to the jawbone, so there is virtually no chance of implant-supported dentures slipping out of place. Additionally, implants can help prevent jawbone atrophy, which often occurs when teeth are lost.
The benefits of implant-supported dentures include:
Comfort: Their stability and durability allow patients to bite and chew any foods comfortably.
Prevention of Jawbone Atrophy: If missing teeth go untreated, the bone tissues may not receive the proper amount of stimulation, causing bone loss and adverse changes in the jaw.
Appearance: The look and feel of implant-supported dentures are incredibly lifelike.
For the right candidates, Dr. Stein can place four dental implants, instead of the typical six to eight, in strategic locations to support a full-arch denture. In addition, he can attach a temporary restoration on the same day as treatment.
What Dentures Are Right for You?
During your initial appointment, our dentists will help you choose which restoration procedure is right for you. Deciding on the right denture can depend on a number of factors, including your overall health, goals, budget, and more. Dr. Stein is committed to providing all of his patients with long-term satisfaction, and he will guide you through the tooth replacement process.
Dr. Stein is wonderful! His dental restoration work is impeccable and his aesthetic sense is amazing. He's a true artist restoring the four front teeth that I damaged in a bike accident back to a natural and lovely smile. In addition, he exhibited genuine concern for my well-being and comfort ensuring that I did not experience any discomfort during or after my procedures.
View on Google
Posting this on behalf of my wife who had a problem with an implant installed a few years ago in a different place. The abutment became loose. She visited a few doctors doctor aroubd here and no one was able to screw it back to implant w/o destroying the crown. Finally, she had been recommend to Dr James Stein who had all the tools and skills to fix the problem easily. Thanks Dr. James!
View on Google