Dental Bridges: A Trusted Way to Replace Missing Teeth
Dr. James Stein provides dental bridges to fill the gap left by missing teeth and to restore a patient's smile and bite. For decades, the standard prosthetic treatment to replace one or a few missing teeth was a dental bridge. With today's advanced technology, patients can now choose bridges attached to crowned original teeth, or implant-supported dental bridges, secured by one or more dental implants placed in the jaw. To learn more about dental bridges, contact our Boston, MA, dental practice today.
When to Consider a Dental Bridge
If you have lost one tooth, or a few teeth in a row, a dental bridge may offer the best option for replacing your teeth. However, patients who are missing multiple teeth across the upper or lower arch, or who have only a few original teeth remaining, may be advised to explore partial or full dentures, rather than dental bridges.
During your consultation, Dr. Stein will examine your teeth and gums, and provide a recommendation between traditional and implant-supported bridges, and which technique would be most effective for your case. He will answer all of your questions and can provide before-and-after photos to help you visualize the potential results.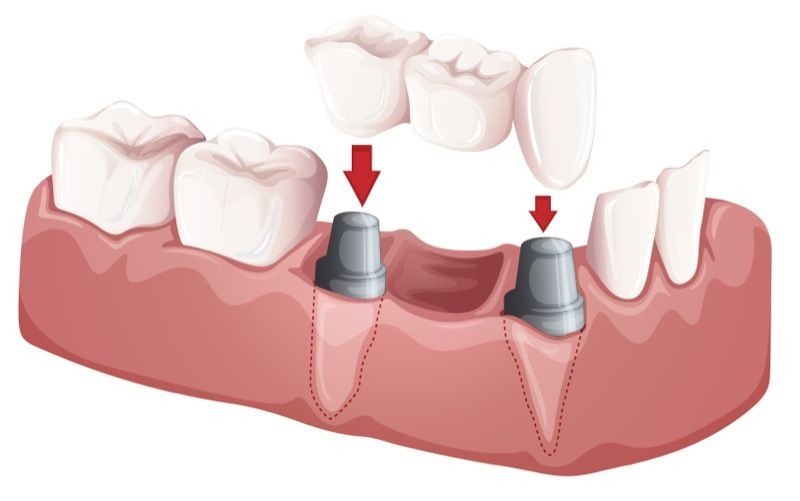 Understanding Dental Bridges
Made of one or more prosthetic teeth, called pontics, and a crown on either end, called abutments, a bridge indeed "bridges the gap" between your healthy, original teeth. This prosthetic is not removable, and does not require special care, other than regular daily at-home care and six-month checkups and cleanings in our dental office.
With a traditional or implant-supported bridge, you can restore your smile, improve your bite, and reduce the potential for losing additional teeth.
Fabricating a custom bridge and securing it in place requires two separate visits to our office. At the first appointment, preparation for the design and placement will be completed. If you will be receiving a traditional dental bridge, Dr. Stein will prepare teeth on either side of the spaces to be filled with pontics.
Preparation involves removing sufficient tooth enamel to make room for the crowns that will hold your bridge in place. A digital impression will be taken of the empty space, prepared teeth, and opposing teeth.
We use a Cadent iTero® to capture impressions, so you will not have to endure the traditional, messy, foul-tasting impression material. You may be fitted with a temporary bridge while your permanent prosthetic is being made by our dental lab. You will return for a second appointment to have your bridge permanently placed and fitted.
About Implant-supported Bridges
If you choose an implant-supported bridge, Dr. Stein will handle your entire case, and you will not need to see a separate surgeon. For this procedure, he will surgically secure a dental implant in your jawbone. Dr. Stein will oversee your healing process, called the osseointegration period, as the bone naturally attaches to the implant post. After three to six months, when your jaw has completely accepted the posts, Dr. Stein will attach your permanent, implant-supported bridge, and the procedure will be complete.
Schedule Your Consultation Today
With a traditional or implant-supported bridge, you can restore your smile, improve your bite, and reduce the potential for losing additional teeth. Dr. James Stein is a talented and respected prosthodontist, offering complete implant procedures in his comfortable office. To talk to Dr. Stein about whether you need a traditional dental bridge or implant-supported bridge, schedule your consultation today.